About STIMULUS
STIMULUS is a community service programme which gives Cambridge University students the opportunity to work with pupils in local schools, helping with Maths, Science, ICT or Technology lessons. STIMULUS students work as volunteer Teaching Assistants in the classroom, alongside the class teacher.

Volunteers come from all disciplines but mainly mathematics, technology and science-related subjects, with several each year studying medicine.

In the 2018/19 academic year STIMULUS created 266 placements in primary and secondary schools, and sixth-form colleges, within the city of Cambridge and nearby villages.
The main aims of the STIMULUS programme are:
to provide support for the teaching of Mathematics, Science, Computing and Technology in schools;
to provide pupils with positive role models of young scientists, mathematicians and technologists;
to encourage all pupils to develop and maintain an interest in Mathematics, Science and Technology;
to contribute to enrichment opportunities for school students;
to give university students opportunities to develop their communication and interpersonal skills;
to give university students experience in the classroom and a better understanding of education;
to provide a link between the University and the local community.
STIMULUS helps all participating volunteers to develop important transferable skills, including organisational, communication and leadership skills, which prove valuable in their later career choices. The project also provides valuable experience to those students who are considering a teaching career and often helps them decide whether to make this career decision. Each year we have some students who go on to follow a PGCE course, to participate in the Teach First scheme or to participate in the Students Associate Scheme placements during their vacation. STIMULUS scheme experience proves to be an extremely positive aspect in their applications.
To find out more please download our latest Annual Report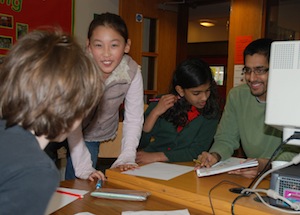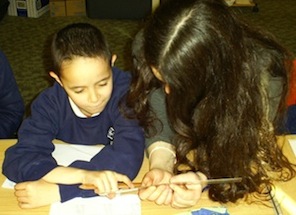 ---
Steering group
| | |
| --- | --- |
| Dr R.W. Broadhurst | School of Biological Sciences |
| Dr L Paulson | Computer Laboratory |
| Mr C. Gilderdale | Faculty of Education |
| Ms J. Hawkins | Millennium Mathematics Project |
| Mrs J. Watkins | (Project Coordinator) |
| Dr S. Watson | Faculty of Mathematics |
| Ms E. Lord | Faculty of Education |
| Dr G.T. Parks | Faculty of Engineering (Chair) |
| Dr J. Butler | Dept. of Physics |
| Dr P. Wothers | Faculty of Chemistry |
| Dr E Galindo-Nava | Faculty of Materials Science |
| Simon Goorney; Juliette Rudic; Charlie Brooker; Fareeda Abdulsalami | Student representatives |
| Joe Davenport; Annabel Lewis; Neil Kelly; Steve Warr; Zoe Thorn | School representatives |