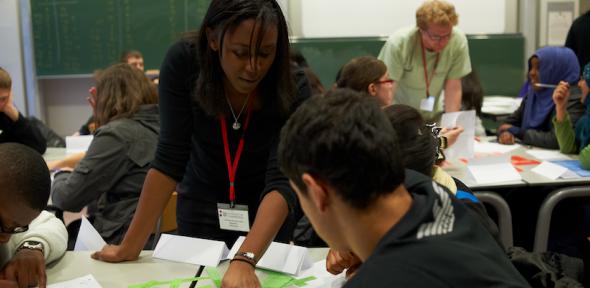 COVID-19 Update
Please note that we are not arranging STIMULUS school placements this term (Autumn/Michaelmas 2021), but we hope the programme will restart later this year.
---
Information for STIMULUS volunteers
If you are considering volunteering for the first time, please look at the Joining STIMULUS page, as well as the information below.
Guidelines for volunteers
There is a whole page of advice here.
Information about schools and the curriculum
Many of you will have attended schools very similar to the ones you are visiting, although there will undoubtedly be some differences. For others, you may know little about the UK education system.
Pupils will be following the National Curriculum, which lays down the programmes of study in each subject at each key stage. Key stage 1 is age 5-7, key stage 2 is age 7-11, key stage 3 is age 11-14 and key stage 4 is 14-16 (when pupils study for GCSE).
The teachers may refer to the standard at which a pupil is working: the ''expected'' standards which pupils should reach at the end of each year or key stage are defined in the National Curriculum document. In practice, of course, the standards at which pupils are working may vary considerably, and learning tasks will be "differentiated" to cater for pupils of different abilities. Particularly at secondary school and particularly in maths, this may be achieved partly by "setting" the pupils into ability groups; you may be told that you are working with set 2 out of 4, for example.
There are various links in the next section which may help you make sense of the jargon teachers might use.

Important Child Protection Information
Please download and read the following three documents:
Useful links
You may need none of these, especially if you are just helping generally within the classroom, but they are useful if the teacher uses unfamiliar jargon, or if you are given the opportunity to plan work with a small group.
The three A-level and GCSE exam boards. Bear in mind, if you are given any responsibility for working with pupils preparing for exams, that the sample papers and most recent past papers may be used for mock examinations; use them for your guidance only.
If you're given the chance to choose what to look out with a group, the following resources may be useful:
Maths enrichment resources for all ages - you can look for a particular topic using the Maths Finder, or look at the current month's problems (pupils can send in solutions and get them published the next month).
Resources for A level Mathematics
Resources for getting started with Physics teaching
We welcome feedback on how things are going. At the end of the term, we will ask you to fill in a questionnaire about your placement.
Don't forget, if you are having any problems with your placement, do raise them with the teacher you are working with, the school's link teacher, or the coordinator. In particular, if you have to drop out for any reason, please let both school and coordinator know.
If you have other questions, comments or ideas, then there are various ways of communicating them:
Post them in the volunteers' forum.
E-mail the coordinator
Talk to or e-mail one of the student representatives (see contact details).

Lent Term 2020
| | |
| --- | --- |
| Friday 17th January 2020 | Student Registration Deadline Midnight |
| Monday 20th January 2020 | Placement organisation |
| Tuesday 21st and Wednesday 22nd January 2020 | Placement briefings at 5.00 pm in MR15 (Tuesday) and MR9 (Wednesday) in The CMS (Centre for Mathematical Sciences) building; DBSs checks will be processed following the briefing (new volunteers only) |
| Thursday 23rd January 2020 | Placement briefings at 1.30 p.m. in MR11, and 3.30 p.m. and 5.00 pm in MR9 in The CMS (Centre for Mathematical Sciences) building; DBSs checks will be processed following the briefing (new volunteers only) |
| Monday 27th January 2020 | Michaelmas term placements start |
| w/e Friday 13th March 2020 | Lent term placements end |