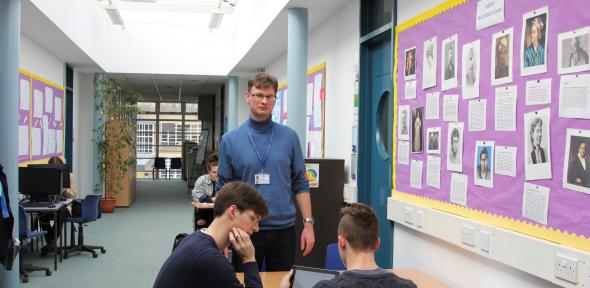 COVID-19 Update
Please note that we are not arranging STIMULUS school placements this term (Autumn/Michaelmas 2021), but we hope the programme will restart later this year.
---
Schools involved in STIMULUS are sent details and a password to enable them to log in and request placements. Participation is restricted to those schools within easy reach of Cambridge University.
If you haven't received your login details, please contact the STIMULUS Co-ordinator.
Schools outside the immediate area might like to look at our page of links to other projects, which may be more appropriate. For any one-off events, they are welcome to e-mail the coordinator, who may be able to circulate a particular request for help.
More information about the project
About the volunteers
The volunteers are Cambridge University students, studying maths and science related subjects. They are all in at least their second term at university. Some have experience of working with children and young people; others don't. They are all interested in sharing their enthusiasm and expertise with pupils in local schools, and have made a commitment to giving up time each week to do this.
All volunteers apply for a DBS check, if they do not already have a DBS certificate. Unfortunately this may not come through until later in the term for first-time volunteers, in which case they should not be alone with pupils.
Before they go into schools, the volunteers will attend an orientation meeting. They will be given details of their placement, and will be given some guidelines on their role. Some experienced volunteers will share their perspective, and there will be ample opportunity for them to ask questions.
At half-term, which usually comes after just one or two school visits, a training session is held. An experienced teacher or teacher-trainer will lead this, giving useful advice on helping pupils effectively. Again, there is an opportunity for individual questions to be answered and support offered.
The volunteers are asked to contact the school office if they are unable to attend for any reason. Occasionally their timetables change, and unfortunately the placement may have to be discontinued.
The coordinator is always available by e-mail to both teachers and volunteers, particularly where there is any problem with the placement. She is a teacher and has had Stimulus students in her classes so knows what it is like.
Ways to use the volunteers
In many cases, the volunteers provide general classroom help, either working with a specified small group within the classroom, or floating and helping where seems appropriate. Sometimes volunteers are given a more specific role, particularly if they return for a second term to the same school.
Examples:
Carrying out a practical tasks with pairs or groups of pupils in turns.
Working with pupil(s) whose English is weak.
Taking out a small group of able pupils to work on extension topics.
Taking out a small group of easily-distracted pupils.
Going over a test or topic with pupils who have struggled.
If taking a group out of the room, it can be useful if this is to a communal area, such as a library or support base, so that other staff are around.


Return to top
Advice on making best use of the volunteers
Download the printable booklet: Making the Most of your STIMULUS Volunteer
Make sure the office are expecting them and know where to send them.
Introduce them to the class; first names are usually used.
Tell them where you'd like them to sit/stand during any teacher-led part of the lesson.
It may not be possible to talk before the first lesson, but do talk to them as soon as you can about how you would like them to work.
If possible, let them know in advance what the class will be doing. E-mail is useful if you don't know a week in advance; ask them to e-mail you if you think you'll forget to e-mail them!
Plan to use the volunteer; plan activities where their presence will be helpful and there will be plenty for them to do.
Indicate if there are particular individuals you would like them to work with. If they are floating, some will be good at taking the initiative; others may need a little direction.
If asking them to work on extension topics, check that they are confident to do this, and lend them appropriate materials. Some will be happy to prepare themselves; others may need to be told what you would like them to do.
Let them know in advance if the class will be on a trip, doing a test, or off-timetable for any reason. It is very frustrating to make the journey and find no lesson.
If you are going to be absent, ensure that the cover teacher knows the volunteer's role, and if possible warn the volunteer.
Important Child Protection Information
Please download and read the following three documents:
Quotes from teachers and volunteers
From teachers:
"I found this to be a very valuable for my pupils …Having students run revision sessions was a really good idea. I was able to have small groups supported by a student … and my pupils found it useful to have things explained in a different way. They also enjoyed finding out about what the students were studying and the path that they took to get there. "
The STIMULUS programme is … "So valuable.They [STIMULUS volunteers] give the children confidence … The children love the attention from someone who is not their teacher and really respond well to praise from real mathematicians or scientists."
"The STIMULUS students promoted a culture of learning which has rubbed off on the students."
"The volunteer demonstrated initiative and flexibility combined with passion to inspire children to succeed in their present learning and future lives. ''
From volunteers:
"It's just wonderful to get to know some inquisitive students and to help them with their work. It's a lovely chance to use your science knowledge to add that little bit of extra background to their understanding."
"I have the opportunity to help students with mathematics….but, at the same time, to improve my communications skills by explaining simple but fundamental concepts. It is also a way to pass on the help I had received when I was in secondary school."
"Each week, I have found myself looking forward to the one hour I spend in the classroom. Even spending such a small amount of time, I have got to know the students and have greatly enjoyed seeing the grow and learn.It's been challenging at times to figure out how to help best ….but it's very rewarding when a student understands something, maybe thanks to me."
"A great programme!" "I enjoyed STIMULUS so much the last couple of years that I'm doing teacher training next year!''